Q™ Quartz Countertops
Quartz Countertops are non-porous, does not require sealing, and is also heat resistant.
---
PREMIUM NATURAL QUARTZ™
Low maintenance, stain-resistant, and nearly indestructible quartz countertops line, Q Premium Natural Quartz is the preferred countertop for homeowners, builders, and designers. Trendsetting quartz colors, colorways, and coveted new styles, here's all the ways you can create family-friendly dream spaces with Q.
Quartz Countertops
SLEEK AND SOPHISTICATED COUNTERTOPS
High-glamour styles, mod colorways, and life-long durability come together in Q™ Quartz Countertops with envy-inducing looks that endure the ages.
Lumaluxe®
BREAK-THROUGH IN QUARTZ ENGINEERING
LumaLuxe® — a Q™ Quartz collection exclusive to MSI — creates today's most beautifully natural quartz countertop by enhancing how light interacts with your countertop surface and pushing the boundaries of realism.
Domestic Quartz Manufacturing
INNOVATIVE QUARTZ COLORS
MSI's domestic manufacturing plant provides the most advanced machinery combined with patent production processes to produce the most natural-looking quartz countertops in the market.
---
Have a question about Q™ Quartz Countertops ?
Send us a message and we'll reply shortly!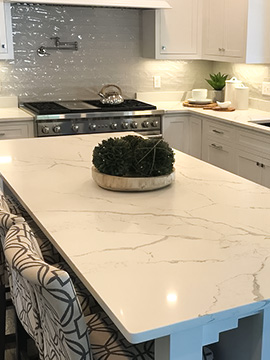 That Cabinet Store Kitchen & Bath Countertops
Call For Availability