Corian® Quartz Countertop
Engineered with pure quartz crystals, Corian® Quartz is visually striking.
---
What is in a Corian® Quartz Countertop?
Made with extremely hard quartz crystals, Corian® Quartz keeps its good looks and survives the impact of nicks and cuts that can occur with daily wear and tear, minimizing short and long-term maintenance. Quartz is abundant in the earth - it is naturally hard and scratch-resistant. Quartz even ranks a 7.0 on Moh's Hardness Scale, which measures the scratch resistance of a material. Only diamonds, ranking 10, topaz, and sapphire, are more complex than quartz.
Why Select A Corian® Quartz for Countertops
Unlike other materials, you never have to seal, polish or recondition the surface to maintain its luster. It can be easily cleaned with soap and water and doesn't require sealants or waxes. In addition, Corian® Quartz contributes to sustainable design. Corian® Quartz and its adhesives and sealants meet or exceed emissions guidelines for volatile organic compounds, are low-emitting, and are nontoxic and nonallergenic for humans.
---
Have a question about Corian® Quartz Countertop ?
Send us a message and we'll reply shortly!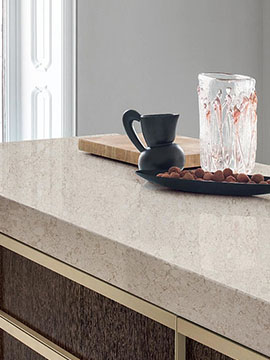 That Cabinet Store Kitchen & Bath Countertops
Call For Availability