DEKTON Countertops
DEKTON Countertops are particularly suitable for indoor and outdoor kitchens and barbecues.
---
Kitchen Countertops
DEKTON is a long-term product for those looking to turn their kitchen into a unique space. It allows the more significant potential for installation in one piece with no cuts, joints, or limits. It has the appeal of a completely uniform surface, seamlessly fitting into very different design styles.
DEKTON combines the qualities expected by the chef in all of us. It is a clean surface that is nice to touch and resistant to all the daily grind in a kitchen over years of use. It is an ultra-sophisticated material for busy everyday life, capable of creating spaces that make the day-to-day preparation of food a pleasant experience that precedes the pleasure of sharing a meal with friends or family.
Outdoor Countertops
Cooking is a pleasurable experience, and doing it outdoors usually results in a small social event, such as everyday celebrations that we can enjoy in the company around a grill. DEKTON, due to its ultra-compact structure, is particularly suitable for installations for outdoor kitchens and barbecues.
DEKTON provides strength and style to these spaces; it gives them an undeniable personality and unlimited practicality. Stains, bumps, utensils, and high temperatures... DEKTON will resist demanding use over time while maintaining its unchanging beauty
---
Have a question about DEKTON Countertops ?
Send us a message and we'll reply shortly!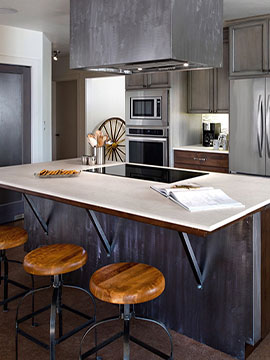 That Cabinet Store Kitchen & Bath Countertops
Call For Availability